 The Secret of our Flavor
Amazing Characterized with the rare-for-Kanto unsteamed grill.
Without steaming, this "Bincho Hitsumabushi" is a famous Nagoyan cuisine hot off the grill. There is a fragrance and superiority that cannot be experienced elsewhere in this combination of Aichi's wealth of fermenting culture with reduced soy sauce and mirin.
With crispy skin and meaty flesh, this savory dish is sure to please.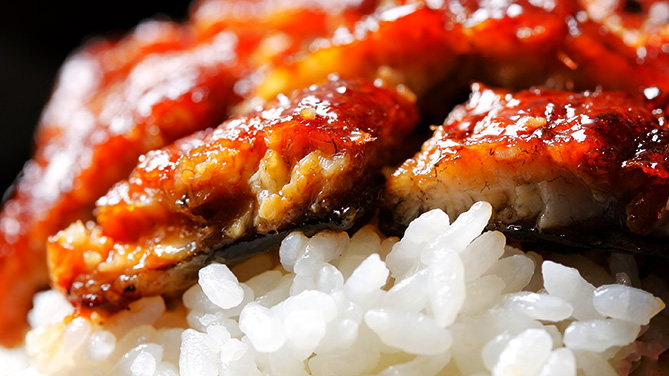 Because there is a simple ingredient, what makes us different is the selection of material and technique. Grilling without steaming gives the most delicious texture and rendering of fats. Only the perfect eels are selected from all origins, both domestically and internationally.Rice that can stand alone as a delicacy grown with environmentally and human friendly methods.
Our promise is freshly prepared ingredients at all times for your highest enjoyment.
Location Information / Menu
Shop Info
Parties

Sitting Room

Private Rooms
Hitsumabushi Nagoya Bincho
Near Station

Feasts

Views
1 minute from Shinkansen Exit
Dai Nagoya Building Location
Beside Station

Private Rooms

Feasts
Kinshachi Yokocho Location
Unagi Hitsumabushi Bincho
Mitsukoshi Ginza Location
Hitsumabushi Nagoya Bincho
Marunouchi Building Location
Near Station

Private Rooms

Views
Marronnier Gate Ginza 1 Location
Near Station

Semi-private Rooms

Views
Tokyo Sky Tree Town®
Solamachi Location
Near Station

Tourism

Kids Menu
Hitsumabushi Nagoya Bincho
Grand Front Osaka Location
Hitsumabushi Washoku Bincho
Beside Station

Private Rooms

Sitting Room